Why Goat's Milk?
Goat's milk has long been used to make rich, creamy soaps with abundant lather. Goat's milk is said to have anti-inflammatory properties, and is a favorite among those with skin conditions such as acne and eczema. The fats in goat's milk quickly penetrate the skin and form a barrier, which prevents moisture from escaping. Goat's milk is high in vitamins A, D, and B6, as well as the antioxidant selenium.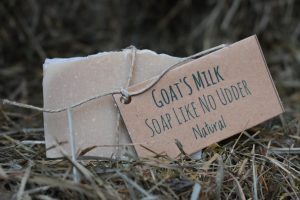 Soap Like No Udder
Each bar of soap that we sell is produced in small batches and packaged by hand, right here on the farm. All of the raw goat's milk that goes into our soap comes from our own goats. Our soaps are scented using only pure essential oils and herbs that we grow ourselves, and never contain any artificial colors or preservatives. Each bar weighs approximately 4.5 ounces.
Currently, we have the following varieties available: Natural, Balsam, Rosemary + Thyme, Lemongrass + Basil, Eucalyptus, and Lavender. We also have an orange Billy Goat Scrub bar, which contains corn meal grit, giving it a greater cleaning capacity. Be on the lookout for our limited edition seasonal soaps!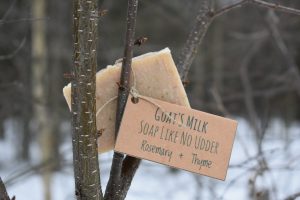 If you're interested in ordering our soap, please email us or visit our Etsy store:
https://www.etsy.com/shop/CookFarmNY
If you would prefer to purchase our soap locally, please visit any of the following retailers:
Pine Country Outlet – 46 Raymond St, Malone, NY 12953
There and Back Again – 2640 Main St, Lake Placid, NY 12946
So Thankful Gift Shop – 1304 Washington St, Brushton, NY 12916
Willow Tree Florist & Landscaping – 7580 U.S. 11, Potsdam, NY 13676
Cromp's Lake Titus Trading Post – 12716 State Route 30, Malone, NY 12953
Lake Placid Flower & Gift Shop – 5970 Sentinel Rd, Lake Placid, NY 12946
Adirondack Art House – 131 Cornelia St Suite 101, Plattsburgh, NY 12901
For wholesale, please contact us directly or visit us on Boutsy: