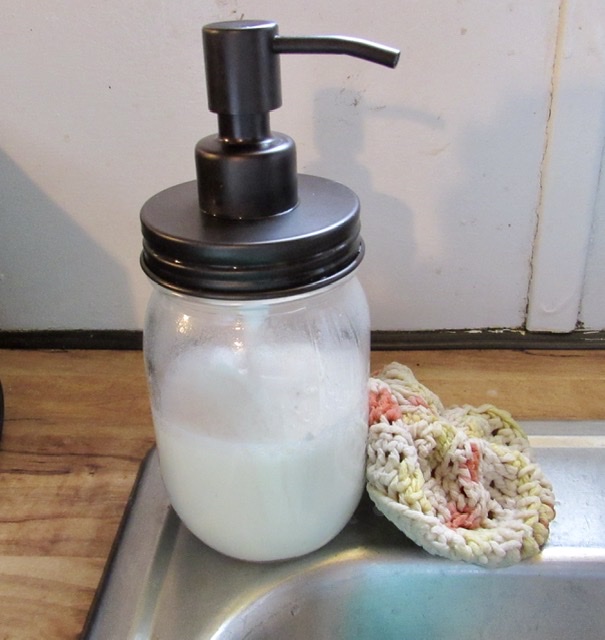 At our house, we love DIY solutions, especially when they're all natural and save us money. We also love finding creative ways to use our handmade goat's milk soaps besides just washing our hands and bodies. We've been making our own laundry soap for quite a while by grating our end bars, and combining the shredded soap with washing soda, borax, and baking soda. When I stumbled upon a super simple dish soap recipe, I couldn't resist trying it out!
This recipe only calls for three ingredients: shredded soap, baking soda, and water. The first time I made it, I used our own peppermint goat's milk soap (of course). In hindsight, I should have opted for a bar that didn't contain dried herbs, because the little bits of leaf stick to the dishes. The next time I used a bar of balsam instead, and I was much happier with the result.
This recipe couldn't be simpler to make:
Set a small bowl on a kitchen scale. Grate a bar of soap over the bowl until you have 35-40 grams. (You can use any natural soap that you like!)
Place the grated soap in a pot, and add 2.5 cups of water. Bring to a boil, stirring occasionally until the soap flakes are completely dissolved.
Remove from heat. Allow the liquid to cool until it is warm, but not hot. Stir in 2 teaspoons of baking soda.
Allow the mixture to stand overnight. Transfer to a bottle or jar for use.

This recipe is based on one I found on https://wastelandrebel.com/. I made a few changes to make it work better with our soap. I also omitted the essential oil because I felt that the essential oils in our soap provided enough of a scent. The result is much thinner than a commercial dish soap, most likely because it lacks glycerin, however, I've found it to be equally as effective at cutting through grease. Just give this dish soap a little shake every now and then to keep it from separating, and enjoy washing your dishes with something all natural!