Current Offerings
We will have kids available for purchase in the spring of 2020! We expect them to be born sometime in March, but we will post more exact due dates once we have pregnancies confirmed. Please contact us if you'd like to be placed on a waiting list for a kid.
Our Herd
Our eldest doe, Ginger, is an Alpine/Saanen cross. She is an excellent producer, supplying us with milk that we use to make our handmade goat's milk soaps. Ginger is very sweet and easygoing, and likes to give kisses to all of her visitors.
Our buck, Moe, is a purebred Alpine with a beautiful light chamoise coat coloration. He came to the farm when he was just 6 weeks old, and has since become somewhat of a mascot, enjoying free reign of the yard and surrounding woods.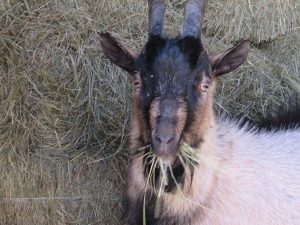 Greta (black) and her twin sister Heidi (chamoisee) were the first kids to be born on our farm. They are the offspring of Moe and Ginger, which makes them 3/4 Alpine and 1/4 Saanen. We look forward to milking them when they're older, but for now, we're just enjoying the opportunity to play with this friendly pair of kids!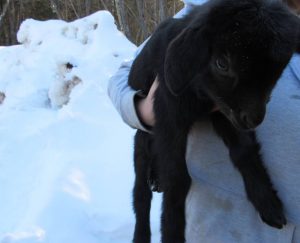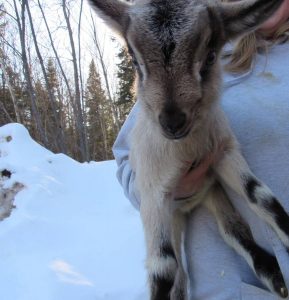 Previously Sold
Coming soon!