Butternut squash is a favorite fall side dish in our household, and good thing, because right now we have a ton of them! (There are some available at the farmstand.) The following recipe is one that our family makes every year as part of our Thanksgiving celebration. It's easily made in advance and kept warm in a crockpot for serving later in the day. This recipe was passed down from my Great Great Aunt Dotty to my Grammy, who was kind enough to send me a picture of the recipe card to share with you all.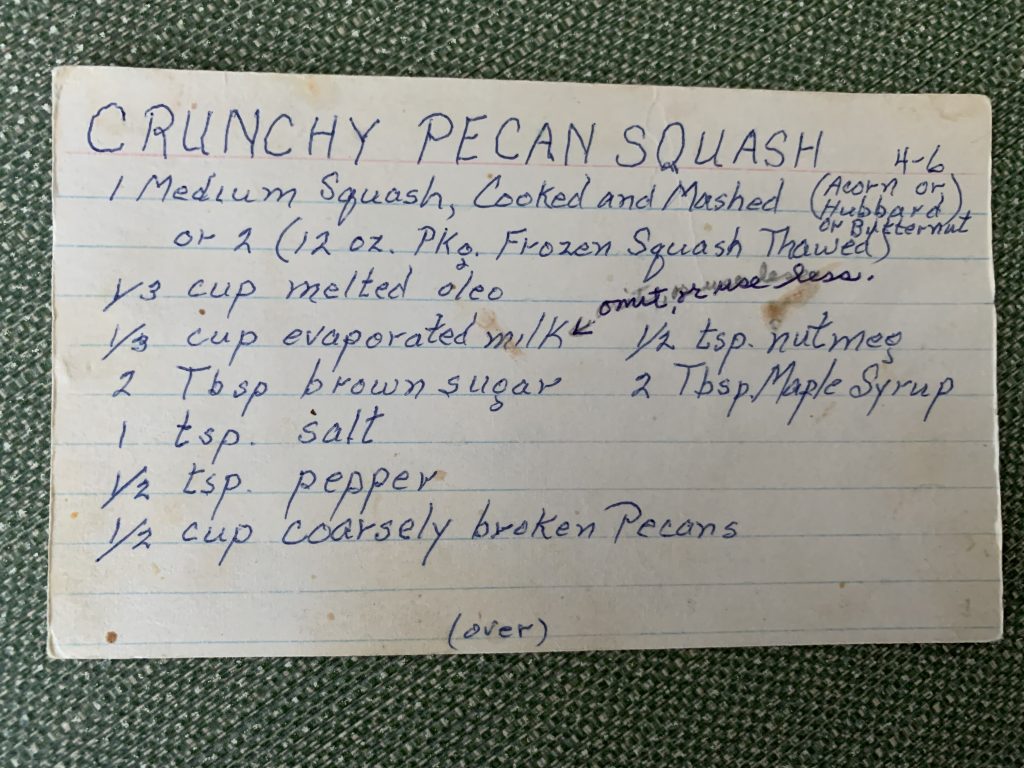 Start by peeling a medium sized butternut squash, and removing the seeds. You can also use acorn or hubbard squash, if you prefer! Cut the squash into large cubes, and boil until fork tender. Drain and mash until smooth.
Add in 1/3 cup of melted margarine or butter (I prefer butter), 1 teaspoon of salt, 1/2 teaspoon of pepper, 2 tablespoons of brown sugar, and 1/2 teaspoon of nutmeg. Stir lightly. Transfer into a greased 8″ x 8″ casserole dish.
Combine 1/2 cup of coarsely chopped pecans with 2 tablespoons of maple syrup. Spread over top of the squash.
Bake uncovered at 375 degrees for 30 minutes.
Enjoy!